TTA appoints Mr. Prayudh Mahagitsiri as Honorary Chairman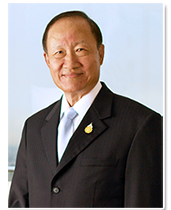 Bangkok, 13 February 2013 | Thoresen Thai Agencies Public Company Limited ("TTA") today announced the appointment of Mr. Prayudh Mahagitsiri as Honorary Chairman. The appointment, which is effective 12 February 2013, was considered and approved by TTA's Board of Directors.
Mr. Prayudh Mahagitsiri, who is regarded as one of Thailand's most respected and successful entrepreneurs and industrialists, had pioneered many 'first-in-Thailand' projects and established various companies under the umbrella of PM Group. He serves as Chairman / CEO of several major companies including Quality Coffee Products Limited, Thai Film Industries Public Company Limited, POSCO-Thainox Public Company Limited, Thai Copper Industries Public Company Limited and Lakewood Country Club Company Limited. He has also held several positions in the government including Senator, Member of Parliament and Advisor to the Prime Minister. He holds a B.A. from San Diego University, USA, and Honorary Doctorates in Business Administration from both Ramkhamhaeng University and Bangkok Thonburi University in Thailand.
Mr. Prayudh Mahagitsiri will provide guidance and advice to TTA's Board and management. His unparalleled track record of building and growing businesses will help to support and spur the growth ambitions of TTA.
Click to go back