Pierre Hermé receives the title of World's Best Pastry Chef by the World's 50 Best Restaurants Academy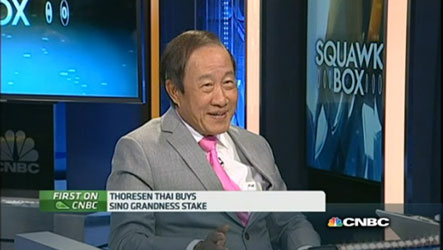 Bangkok, 16 October |
Asia's leading business news TV channel
CNBC
has interviewed PM Group Chairman
Khun Prayudh Mahagitsiri
following the acquisition of a 9% stake in Singaporean-listed Sino Grandness Food Industry Group, a Chinese maker and distributor of canned food and drinks, by PM Group's associate company Thoresen Thai Agencies PCL (TTA).
The interview was aired on 16 October under the channel's flagship morning news programme
Squawk Box
that's watched by millions of viewers all over Asia. Aired Monday to Friday 8-11 am Thailand time (7-10 am SIN/HK), the programme sets the news agenda in the region every day, bringing viewers all the news and views from the top CEOs, asset managers and newsmakers as Asian markets open for trade.
In the conversation that lasted 6.56 minutes, programme co-anchors Bernie Lo and Susan Li discussed with Khun Prayudh on TTA's rationale behind its billion-baht investment in Sino Grandness as well as the current political situation in Thailand and the economic outlook.
Click to go back