PM Group Appoints Ex-chief of Nestlè Thailand as Senior Executive Vice President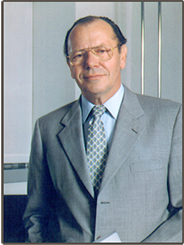 Bangkok, 26 July 2013 |
PM Group Company Limited
, one of the foremost Thai conglomerates with operations across Asia and Europe, today announced the appointment of
Mr. Yves Barbieux
, former head of
Nestlè Thailand
, as its Senior Executive Vice President.
Announcing the appointment with immediate effect, PM Group Chairman
Mr. Prayudh Mahagitsiri
said in a statement: "I had the privilege of working with Mr. Barbieux in the late 80's when he headed Thailand operations for Nestlè. As chairman and CEO of Nestlè Thailand, he strived to significantly increase the turnover and profits of the company. We expect him to use his vast experience and make similar efforts in our group businesses and help take them to the next level of success."
Mr Barbieux received Master's degree in Civil Engineering from École Centrale Paris, a French university-level institution in the field of engineering, and another Master's in Business Administration from Harvard Business School (HBS).
He began his career as civil Engineer in South America and after his MBA from HBS he joined Nestlè where he served as the CEO of Nestlè branch offices in Venezuela, Belgium, Italy and France and particularly from 1986 to 1989 in Thailand. It was during his stay in Thailand that Mr. Barbieux met and worked with Mr. Prayudh.
Of several positions Mr. Barbieux held during his two-decade career with
Nestlè
, his tenure as the chairman and CEO of the instant coffee giant's French operations is worthwhile to mention.
Nestlè France
was, in fact, a 'patchwork' of six operating companies which he merged into one group and moved the new headquarters to Noisiel, thereby substantially reducing administration costs.
The Noisiel HQ was housed in an old nineteenth century chocolate factory. Mr. Barbieux took personal interest and restored the historical monument. Eventually, he was decorated with
Chevalier des Arts et des Lettres
('Knight Order of Arts and Letters') by the French Government in recognition of his contribution towards enrichment of French cultural inheritance.
Commenting on his new assignment, Mr. Barbieux said his main purpose was to ask the right questions in order to define the right strategies in accordance with the shareholders' objectives. "In PM Group there are not only bright diamonds but some rare stones that won't shine. It is necessary to distinguish them from the rest and I will do my best to collaborate in the sorting," Mr. Barbieux added.
Click to go back